Bosch didn't reinvent the wheel.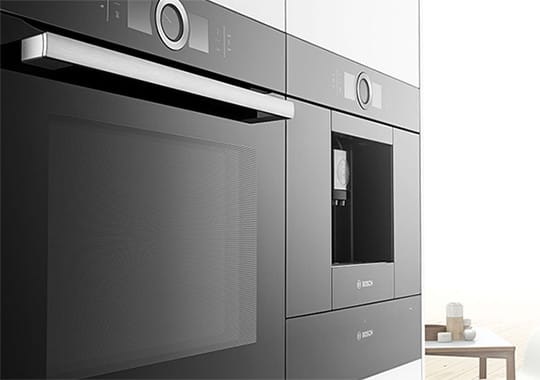 But they taught it how to bake.
Bosch believe the perfect built-in appliance should be designed for one thing above all else: to make your time in the kitchen as pleasant as possible.
Performance
3D Hotair PlusWith 3D Hotair Plus, the air circulates absolutely evenly thanks to optimised air outlets. Regardless of whether you bake on one, two or three cooking levels – the result is always perfect.

---

AutoPilotWith the automatic programmes AutoPilot you automatically achieve the best results. All you need to do is to place the dish in the oven, enter its weight and select the suitable of up to 85 operating modes. For 100% perfect results – whether it is roast, meat or fish.

---

HydroBaking

HydroBaking is absolutely ideal for baking bread and pastries and for heating up foods from frozen. The moisture stays in the oven and the bread or pastries don't dry out.

---

Meat Probe

The built-in roast thermometer is perfect for maintaining the right temperature in the food – just insert into the food, connect with the oven and select the required core temperature. In this way, for example, your roasts or fillets will always be perfectly tender using the soft cooking method.

---

Low noise levels

Your guests are not alone in appreciating a relaxed cook. So you can chat with your guests while cooking, we have made our recirculation cooker hoods so quiet you hardly notice them. Generally, a swishing sound is generated by the noise of the motor itself and the air flow, depending on the level of counterpressure. On ducted models, 50 % of the noise is ducted to the outside. Bosch cooker hoods with the CleanAir module generate up to 3 dB(A) less noise than conventional recirculation systems while offering the same performance

.

---

6kW Wok burnerThe flames of the Bosch 6 kW wok burner are strong and gentle at the same time. Because all flame strengths are possible, from 6 kW down to 0.3 kW. Strong flames, for example, bring pasta water to the boil in no time at all. But low flames are just as important for your favourite dishes. That's why we made the flames for simmering particularly gentle. So gentle that they even melt chocolate with no risk of burning, make perfect sauces or simply keep your food hot. But we've also thought of what happens afterwards: The 6 kW work burner is easier to clean, as it has fewer burner components and fewer recesses and corners.

---

PowerBoostExtra added power: The improved PowerBoost function in our induction hobs adds even more power to speed up the cooking process. For example, you can now boil 2 litres of water almost three times as fast as on a conventional glass-ceramic hob.

---

SteamFood cooked in hot steam not only tastes wonderfully tender and juicy, it's also healthier. Flavours, vitamins and minerals are retained. And the best thing is that you can cook at three levels at the same time without the odours from the various dishes mixing. And another plus point: Because Bosch steam cookers have integrated water tanks, no direct water connection is needed.
Convenience
EcoCleanEcoClean, the energy-saving cleaning aid, makes oven cleaning easy. A special coating of microfine ceramic spheres on the interior oven walls breaks down grease spatters while you bake or roast, for the entire service life of the appliance. That saves time and energy. The back walls of our ovens are coated with EcoClean as standard equipment.Or you can simply add the top and side components as optional accessories. The perfect workmanship of all components makes retrofitting easy.

---

Pyrolysis

With pyrolysis self-cleaning, tiring, time-consuming cleaning is carried out automatically – without the use of chemical cleaning products. Depending on the degree of soiling, the appliance heats up to max. 480 °C. All that's left is a bit of ash which is easy to remove.

---

EcoSensorThe EcoSensor automatically regulates the extraction power of your cooker hood, which means that it not only uses the optimum amount of energy, but also leaves you a free hand when you're cooking. It checks the intensity of the rising steam every second and adjusts the power levels of the cooker hood precisely and independently.

---

CleanAir ModuleThe new CleanAir Module comes now in a clean, modern stainless steel design allowing for a smooth integration in your kitchen. It is an optional accessory for chimney hoods and can be easily installed with any wall or island hood of the new Bosch range. The CleanAir Module consists of a special active carbon filter and a stainless steel design outer panel. Thanks to the large, slat-like surface of the active carbon filter and its very high active carbon content (equivalent in surface area to around 50 football pitches), particularly intensive odour reduction is achieved (95 %). The special active carbon filter therefore obtains results similar to a ducted system and is 25 % better than a standard active carbon filter.

---

DirectSelectThanks to the intuitive control panel, you can select the cooking zones and set the specific power level you want – directly and rapidly. It also features a practical Energy Consumption Display as well as a QuickStart and ReStart-function.

---

FryingSensor PlusWith the FryingSensor Plus, you can brown your fried foods to perfection on the circular cooking zones. The sensor regulates the temperature, based on 4 frying levels or 9 programmes, and automatically controls the frying process. Every steak comes out perfect.

---

TouchSelectWith this new control panel, you can regulate the desired cooking zone easily. Simply select the power level you need. And the new QuickStart- and ReStartfunctions make cooking even easier.

---

DualWokBosch gas hobs are strong and gentle at the same time. High power, for instance, brings pasta water to the boil in no time at all. But that wasn't enough for us – or you, either. Low power is just as important for your favourite dishes. So we made sure that our low power was particularly gentle for simmering. So gentle, in fact, that it even melts chocolate with no risk of scalding, makes perfect sauces, or simply keeps your food hot.

---

Pan supports dishwasher-proofSpending ages cleaning the gas hob? From now on, you can take that chore off your list! Bosch gas hobs have lots of benefits, and one of them is easy cleaning. Thanks to smooth, high quality surfaces our pan supports are now dishwasher-proof. We have optimized the surface of the pan supports so that you don't have to worry about corrosion, cracks or discolouring when cleaning them in the dishwasher.

---

Full electronic ignitionOur gas hobs feature a practical full electronic ignition and thus switch on at the turn of a hand, without push and hold. Simply turn the control like on the oven to regulate the power with ease.

---

MainswitchThe gas hobs are equipped with a main switch with quick stop function. So if the doorbell rings unexpectedly, all you have to do is touch a button to turn off all the burners. The LED heat indication shows you at a glance which pan supports may still be hot once switched off – to keep big and little fingers safe.
Sustainablity
Hotair Eco

Bosch has optimized the most frequently used heating mode hotair. With Hotair Eco Bosch offers a new heating mode which is 30 % more efficient than the maximum value allowed for Energy Efficiency Class A*. An intelligent heat channeling, optimal use of oven materials and an extra insulation ensure considerable reductions in energy consumption. Hotair Eco allows an energy saving preparation of cakes, gratins, frozen food etc. on one level.

---

LED illumination

The LED illumination consists of 6 power LEDs with a life cycle of 40,000 hours. At 2.7 hours of operation per day that means around 40 years of service. Thanks to their 890 lux, these LEDs are currently amongst the brightest on the market.

---

Induction Technology

Induction hobs generate heat only where it is needed – in the base of the pan. What does this mean for you? More safety and more convenience. The lower temperature keeps both big and little hands safe from burning. Not only that, but an induction hob brings two litres of water to a boil twice as fast as a glass-ceramic hob, which also saves a great deal of energy.
---
Bosch built-in appliances: Perfect installation, uncompromising quality.

Built-in ovens can be integrated into both wall and base units. If you choose a separate oven, you can position the hob independently of the oven. For kitchens where space is restricted, our compact appliances, at 45 cm high, are the ideal solution. No matter which appliance you choose – thanks to various automatic programmes, you'll always produce perfect roasting and baking results with every one of our models.

---

Bosch hobs: Individual design, perfect installation.

A single hobs can be installed into the worktop above the cooker. A separate hob has its own operating elements and can thus be installed independently of the oven. The oven, for example, fits into a kitchen island or a wall unit. And you can also discover our 30-40 cm wide Domino hobs, such as the Teppan Yaki for Japanese cuisine or the wok burner for Asian cuisine.

---

Bosch steam cookers and steam ovens: Saving the lives of vitamins every day.

Full of flavour, healthy, versatile: With our steam ovens and steam combination ovens, you always produce the best possible results and protect vital aromas, vitamins and minerals. Whether you like your food to be delicate and juicy or beautifully crisp and brown, with steam everything's always wonderfully tasty and healthy. In addition, our steamers have a very practical design – thanks to the integrated water tank, no direct water supply is necessary.

---

Bosch microwaves: Perfect for gourmets in a hurry.

You can't cook faster than in a microwave. Or thaw, heat up and even bake. And our compact microwave ovens are multi-talented too. In addition to the classic heating methods for baking, they also have an integrated microwave. Which means that one thing is certain: You don't have to sacrifice superb cooking results even if you're in a bit of a hurry sometimes.

---

Your guests don't need to know you're cooking fish as they arrive at the door.

Whether you want to fry or boil in your kitchen, you can happily leave the steam – and the smells that go with it – to Bosch to deal with. Our large selection of Bosch cooker hoods in various sizes and designs will make sure the air is fresh everywhere – from the tiniest kitchenettes to the largest dining kitchens. And they'll always do it amazingly quietly and efficiently.

---

Warmly recommended: Bosch warming drawers.

Bosch warming drawers can do a lot more than just keeping meals and plates warm. They are also perfect for slow-cooking meat, thawing out foods, melting chocolate and proving dough. In addition, they can be built in separately or combined with an oven and thus offer the right solution for every kitchen situation.