What are Energy Ratings?
The EU energy label details the efficiency rating of various electrical appliances. For example, C is good, but B is even better.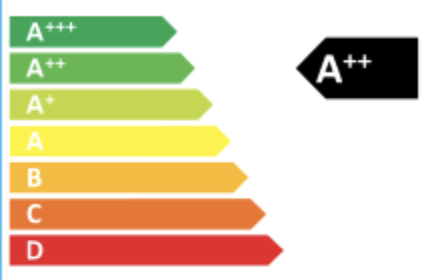 These ratings take into account a wide range of factors including energy consumption, programme time, water consumption, airborne acoustic noise emissions, maximum spin speeds and much more.
Changes to Energy Ratings - March 2021 and beyond...
Originally, the energy rating top award was A, however over time it became clear this wasn't enough for some of the newer appliances appearing on the market, so A+ was added and then A++ and even A+++. It was clear a change was needed to accommodate the increasing improvements in efficiency before the grades became unclear.
In March 2021, the energy rating classifications were adjusted to meet the ever growing improvements in energy efficiency of appliances and with this, the return to the more familiar and easier to understand A - G classification.
This also meant that existing appliances had to fit into this new scale so had to be adjusted too. The result may place an appliance in what would have been a classed A++ originally, to be adjusted to D. This is simply to allow the development and eventual release of newer, even more efficient appliances over the coming years to fit within the new scale with ease.