Browse Dishwasher Categories
We have a large range of dishwashers on display in our showroom. Our super-friendly expert team will demonstrate the very latest technologies and features to help you find the best models for your needs. We're also very happy to offer all the help and advice you need over the phone. Speak to us on 01543 505062.
Popular Dishwasher Brands
We have a wide range of laundry appliances available from leading trusted brands including Bosch, Samsung, Hotpoint, LG and many more.
Dishwasher Terminology Explained
Read our frequently asked questions about the technology our products offer.
What is capacity?

Dishwasher capacity, measured in place settings, refers to the amount of items you can wash in a single load. A place setting roughly equates to 10 items so a typical 13 place settings dishwasher allows you to wash 130 items. Full size models (60cm wide) usually have a capacity of 12 to 14 place settings with slimline models (45cm wide) usually offering 9 or 10. Many premium models from brands such as Bosch, Siemens, Smeg and Neff have flexible interiors to help you load them up with any combination of dishes, pans, cutlery, utensils and glassware. For instance Bosch offer RackMatic upper baskets which can be adjusted for height even when fully loaded to help you fit bulky items beneath them. Their VarioDrawer is a horizontal cutlery drawer on the third level which creates lots of extra space in the bottom basket for your pots and pans.
How economical are dishwashers?

Dishwashers are very economical with models scoring the best energy efficiency scores typically costing as little as £30 plus per year in electricity costs and using 7 to 12 litres of water per cycle. This compares very favourably with washing up by hand.
Are dishwashers noisy?

Generally dishwashers are very quiet but it may be worth paying a little extra if you live in an open plan home or if you spend lots of time in your kitchen. Some premium brands even offer models that are so quiet they project a light onto the kitchen floor so you can tell when they're working with more advanced models projecting the time remaining on your cycle.
What is an integrated dishwasher?

You can choose from freestanding dishwashers which stand on the kitchen floor without being built into a kitchen unit or semi-integrated models which are built into a unit but have the control fascia showing. The third option is to opt for an integrated model which is built into a kitchen unit and has its control panel hidden behind the door. These models have their controls conveniently situated on the top edge of the door for easy access.
What is a WiFi Connected Smart Dishwasher?

Some premium brands such as Bosch, Neff and Siemens offer Smart functionality so you can get updates on the your cycle on your smartphone so you can get on with better things. The dishwashers can recommend the ideal programme to use for each load, just enter the level of soiling and the type and quantity of items to be washed. The dishwasher can even tell you when you're down to your last 5 tabs.
Staff Pick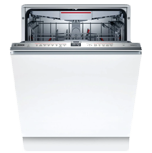 View Details
Bosch Serie 6 SMV68ND00G 60cm Fully Integrated Dishwasher
This is our best selling dishwasher. It's amazingly quiet and economical with a great choice of programmes, It's got a large capacity and a super-flexible basket system and customers love the ExtraDry features which thoroughly dries difficult items such as plastics. This model even comes with a 5 year parts and labour warranty.
Featured Dishwasher Products
View our featured products from our extensive range.
Dishwasher Appliances
Find the very best dishwashers to meet your kitchen needs.
Here at Webbs Electricals we've been putting the customer first for over 60 years. We take great pride in our outstanding customer service and the friendly atmosphere in our store. Our other top priority is always to offer you unbeatable value for money.
We're pleased to offer a professional installation service and we can arrange collection of your existing laundry appliance for recycling.